Every other year, Thanksgiving brings us to Florida to celebrate the holiday with my parents. Four days of family conversation, laughter, eating, and yes, some stress.
And laundry.
I never seem to pack the right clothes – or enough – to get us through the handful of days that we're there. And without fail, something gets left behind.
"I found one of Nick's socks on the floor," my well-intended mother texted when I returned home, "I can send it back."
"Don't worry about it, Mom. Just throw it out," I replied.
"I'll bring it up at Christmas," she replied.
"Really, Mom. Don't worry about it."
Several weeks later, my parents arrived at Christmas sans sock. Mom seemed pretty bothered by it.
"I'll mail it when I get home."
"Mom, really. Just throw it out. I'm sure we have other stragglers that we'll be able to make a match," I reassured her.
But no, the story of the stray sock doesn't end there…
Tuesday, January 9, 2018:

I arrived home from work and picked up the mail on the way in:

The next day, I arrived home and checked the mail again anticipating our long-lost sock.
Standing alone at my mailbox, I took my mail out, rolled my eyes and laughed out loud. I wish – really wish – I had taken a picture of what was in the mailbox. I'll share this instead…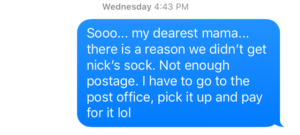 And finally, a response:

That's when Dad chimed in – from Florida, mind you – and as only my father could:

Saturday, January 13th, 10:00am. A balmy 32 New Jersey degrees and dropping, I put on my hat, coat, scarf, and gloves and headed to the post office. And of course, I let my well-intended mother (and father) know what I was doing:
I wanted to take a picture of the whole line, but this crowd just didn't look like they would be amused.
When I arrived at the front of the line, I handed the postal worker my bright orange postcard. She struggled for some time to find the package.
She finally found it, brought it back to the counter and set it before me.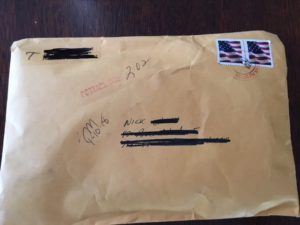 "She didn't put enough postage on it," said the woman at the desk.
As if I needed the reminder.
"Someday that will b funny!" Mom texted.
It is, Mom. It already is.